LOSTCIRCUITS

SHORTCUTS:
Top Page
Setup and Performance
Discussion
Please Give Us Some Feedback

Carbon Black
Black is Beautiful
(Review by MS, October 7, 2003)

Test Configuration
Hardware Setup

ASUS A7N8X-X
AMD Athlon XP3200+
2 x 256 MB Mushkin PC3500 CL2
DRAM settings: 400 MHz at 2:2:2:7
ATI RADEON 9800
Seagate Barracuda ATA-V 120 GB
Pioneer 12X DVD ROM
Robanton 500W PSU

Cooling and Environmental Factors

Thermalright SLK800
Sunon KD1208PT81 80mm fan - 3660 rpm
ambient temperature: 16 centigrades
relative humidity: 82 %


Compounds Tested

Carbon Black
Arctic Silver (original)
Arctic Silver "Ceramique"

All runs were performed in triplicate and in reverse order within approximately 2 hours to minimize the impact of climatic or other environmental changes.
Test Method
The system was booted into Windows XP Professional Corporate Edition and left idle for a few minutes until the processor temperature (measured on the on-die diode) stabilized. After that, 3DMark2001SE was launched as application, which resulted in an immediate temperature spike with soon thereafter return to idle values. As soon as the idle temperature was reached, the 3DMark2001SE "Benchmark" was launched at the default settings of 1280x1024, no AntiAliasing.
Temperatures were logged using the log function of MBM5 with a 5 sec polling interval and imported into an Excel spreadsheet. Since MBM5 only reports full centigrades, all values are rounded. However, in repeated runs, the differences in temperatures at any data point were no more than +1 centigrades. Averaging the individual runs under the same conditions would not contribute more to any clarity, therefore, we show one representative log graph for each run. All runs are triggered to the same starting point.
We used three different compounds:
Arctic Silver (original)
Carbon Black
Arctic Silver "Ceramique"
As a fourth component, we used a mixture of ~2:1 of Carbon Black and Arctic Silver, that is, the two components mix very reluctantly, therefore, the term "emulsion" would be more appropriate.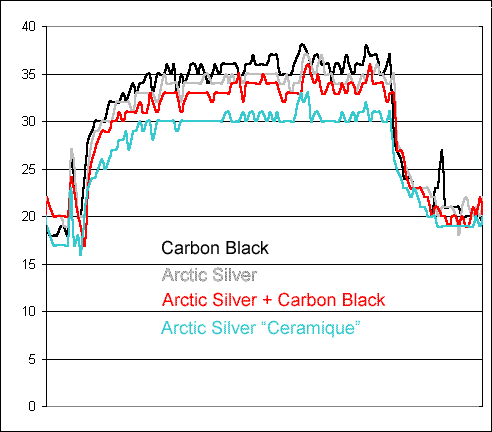 The different compounds and how they compare during a single run of 3DMark2001SE
Overall, the results are extremely similar, however, Carbon Black still resulted in the highest temperatures, followed by Arctic Silver (original). AS is highly viscous and diluting it in a 1:2 fashion with Carbon Black improved the performance of both compounds. Arctic Silver "Ceramique" gave the overall best results.
On the time-Axis, the individual events within the Benchmark are clearly recognizable as temperature transients with loading phases apparent as drop in temperature that are consistent between all runs of all compounds tested here.

As additional control we ran the same series of test runs on the next day after swapping the mainboard for an ASUS A7N8X (Dual Channel nForce2), which gave us different readings on an absolute scale, however, on a relative scale, the results were comparable. (Baseline started at 39 centigrades and under load the temperatures went to 49 centigrades, however, relative humidity had dropped to 36% and ambient temperature was 19 centigrades, in addition, the calibration of the output on both boards will be different).
---
General disclaimer: This page only reflects the author's personal opinion and assumes no responsibility whatsoever regarding any of the contents or any damages that may occur explicitly or implicitly from reading the contents of this site. All names and trademarks mentioned in this review are the exclusive property of the respective parent companies.
All contents of this site are protected by international copyright laws. Reproduction of the contents even in parts is not allowed except after written permission by the author and referral to this site.
Copyright 2002 - 2005 LostCircuits