Arctic Silver Ceramique
review by David, 17 August 2003
Conclusion
Arctic Silver has a winner on their hands. While I didn't compare the Ceramique compound to any other non-Arctic Silver thermal compound, it performed quite well when pitted against Arctic Silver Alumina. Physically, it was also very easy to apply, as well as remove; two traits which can make or break a thermal compound.
On Pricewatch, the average price I found for Ceramique was USD 4 for the 2.7g tube. Locally, Ceramique can be found for roughly RM 25, depending on which retail outlet you get it from.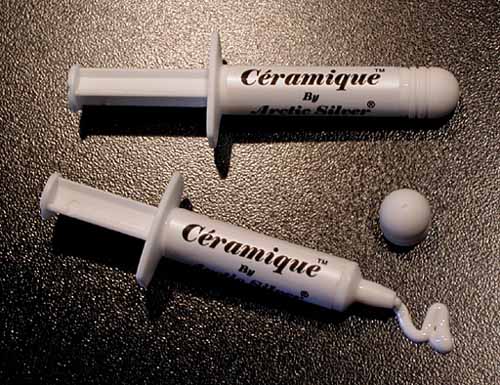 A very affordable thermal compound, Ceramique is going to take over from Alumina as my thermal compound of choice.
We'd like to thank the folks over at Arctic Silver Inc for making this review possible.
Comments and questions are most welcome. You can discuss this review in our forums, registration is not required for this topic. We'd love to hear your thoughts and comments on this review!